Mental Health & Wellbeing
Kidmore End Primary School is an outstanding school that delivers high quality, nurturing provision that focuses on developing the whole child.
The emotional wellbeing of children is just as important as their physical health. Good mental health allows children and young people to develop the resilience to cope with whatever life throws at them and grow into well-rounded, healthy adults. At Kidmore End Primary School, we are committed to supporting the emotional health and wellbeing of our pupils, staff, parents and carers. We know that everyone experiences life challenges that can make us vulnerable and, at times, anyone may need additional emotional support.
All children can experience ups and downs in their life and some unfortunately have to face significant life events which will affect their mental health and wellbeing. In 2017, about 1 in 10 children aged between 5 and 16 had a diagnosable mental health need. This can have a huge impact on the child's experience of life, their relationships and their achievements at school. To this end, the Department of Education acknowledges that "in order for children to succeed, schools have a role to play in supporting them to be resilient and mentally healthy".
At our school we:
help children to understand their emotions and feelings better
help children feel comfortable sharing any concerns or worries
help children socially to form and maintain relationships
promote self-esteem and ensure children know that they count
encourage children to be confident and 'dare to be different'
help children to develop emotional resilience and to manage setbacks
We all have Mental Health
We all have mental health. Mental Health is about our feelings, our thoughts, our emotions and our moods.
We all have a range of feelings every day and our moods fluctuate and change all the time. Feelings can be happy or sad and can be very strong or feel overwhelming but usually tend to pass before too long.
Sometimes we might experience very big or overwhelming feelings which affect our daily lives and stop us from doing or enjoying things that we would normally do. This is the time we might need some help or support.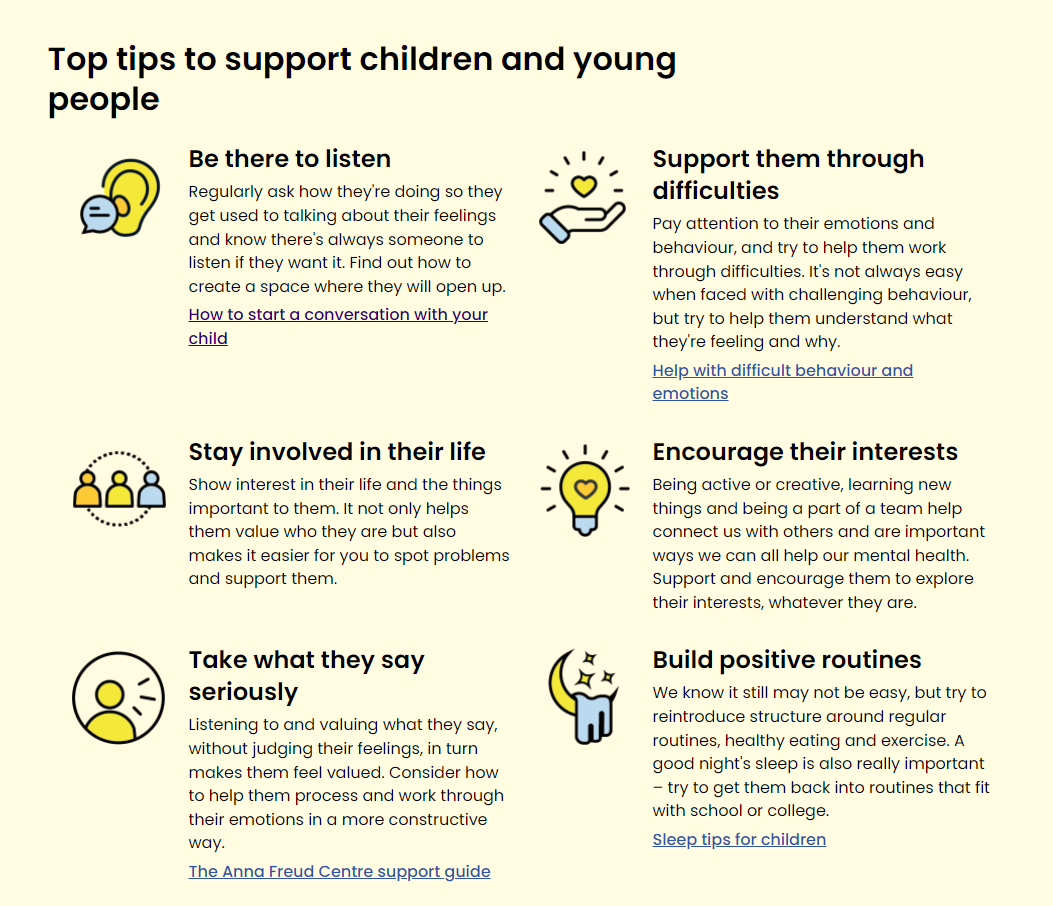 7 - 13 February is Children's Mental Health Week. The week is run by the charity Place2Be, and focuses on the importance of promoting good mental health and wellbeing for children and young people. The theme this year is Growing Together. There is a section of their website aimed at parents and carers you may find interesting to read. This can be accessed using the link to their website above.
We will be promoting Children's Mental Health Week in school. Please find below our letter to all parents summarising the activities we have planned along with details of what your child needs to bring into school each day:
The following websites contain lots of useful wellbeing resources & information for parents and carers you may find helpful:
Please find below additional wellbeing resources, such as the British Red Cross Kindness activity pack, full of activities for parents to complete with their children.